World Vision International digital asset management by the numbers
90+ organizations
under one source of truth
268% increase
in users in 9 months
416% increase
in downloads in one year
A partnership on a humanitarian mission
World Vision was founded in 1950 to provide humanitarian aid to children all around the world. Though it started small, the nonprofit has grown to include offices in 90+ countries and generates more than $2 billion in aid each year.
‍Currently, World Vision International provides sponsorship to 3.4 million children , helping their communities by providing sanitation and hygiene programs, disaster management, economic development, child protection, and education. Since its beginnings, the organization has made an impact on the lives of more than 200 million vulnerable children all over the world.
Though individual World Vision offices operate independently, they are all part of the broader international World Vision Partnership. The offices connect people and share resources throughout the organization. That includes images, videos, documents, and other assets, allowing smaller offices to access the creative developed by the larger ones.


The goal
The nonprofit wanted a way to connect the 90+ organizations that make up the international World Vision Partnership. In other words, they were looking for a central source of truth for the whole organization.
Reliability was one of their top digital asset management priorities. Many of the locations World Vision services are hard to reach. Having a DAM system they could trust would make communication with those locations much easier.‍
They also wanted robust reporting. According to Daniel Mason, World Vision International's Senior Manager — Global Content, "Everything that we receive as far as money goes is a trust — a sacred trust from people who have dug into their monthly budget and decided to put $40 a month towards child sponsorship. So we have to make sure that we're using money wisely." Marketing materials are an investment, and reporting lets World Vision know how their investments are doing.‍
Video was another important component, as was integration with digital asset management tools such as Adobe Premiere Pro, InDesign, and Photoshop software. "We wanted to actually find technology that could be a part of our marketing tech stack," said Daniel.
The challenge
World Vision did have multiple DAMs, but they were no longer a good fit for the far-flung organization. Their DAMs required duplicate licenses and had problems with functionality. In particular, they couldn't support the video content World Vision was creating.
‍Consequently, many users abandoned the existing digital asset management systems and started to use file storage solutions like Dropbox and Google Drive instead. The result was a fragmented system that couldn't scale, didn't integrate with the tools users needed, and made it harder to strengthen their international brand.
"During emergency appeals, the graph of the money coming in and the graph of the downloads in Story Hub match almost perfectly."
Daniel Mason
Senior Manager – Global Content, World Vision International
The solution
After an exhaustive search, World Vision International chose Orange DAM, the Orange Logic digital asset management platform. They named their new DAM Story Hub, since World Vision planned to keep the brochures, videos, and images that helped them tell their brand's stories there. Daniel shared a few of the ways Story Hub was able to help World Vision meet their digital asset management goals:
Intuitive user experience: The Story Hub offered an easy-to-use search with metadata-based keyword suggestions. In addition, Daniel and his team set up curated collections of assets to help with discoverability. This made it easy for users of all ability levels to access World Vision content and find what they needed.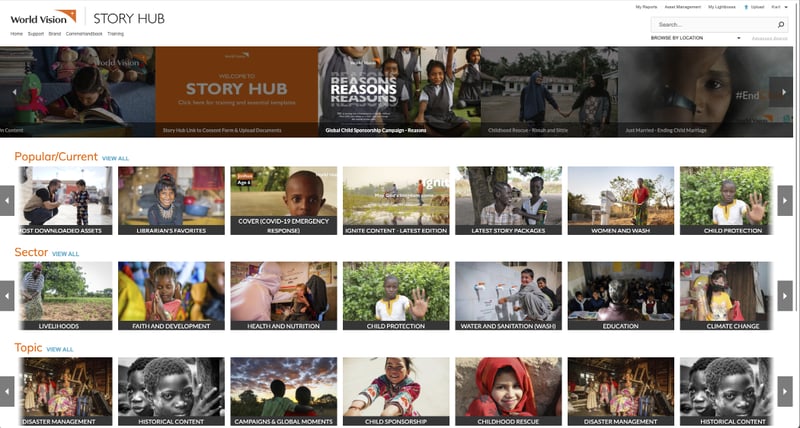 Screenshot of Story Hub Homepage, courtesy of World Vision International
‍Reliability: "Having 24/7, globally reliable infrastructure was super important to us," Daniel said. All of World Vision International's offices were able to consistently access the content they needed to make a difference.
Integrations: Orange DAM offered a strong connection to tools that were important to World Vision's users, such as Adobe Creative Cloud.
Sharing content right from the DAM: "Being able to link directly from the DAM and embed content directly from the digital asset management system was a key distinguisher for Orange DAM," Daniel said. "Not a lot of [vendors] supported that sort of functionality."
Speed: Story Hub was able to handle uploads from the field, even during natural disasters, like Cyclone Idai. Fast upload times allowed the organization to finally manage their video content.
The results
Since launch, Story Hub has continued to grow. Now, all 90+ offices are regularly pulling content from the DAM, and 12 offices worldwide have their own private digital asset management system connected to one central asset repository. Granular permissions help divide local assets from global assets that the whole organization can access.
Adoption and usage have kept pace. The number of users has increased by 320% since launch. Uploads have seen a 380% increase, and downloads—especially downloads of Story Hub's curated content—are up 416% too.
‍
That available content lets World Vision broaden their campaign reach. For example, World Vision USA launched a new invitation into Child Sponsorship called Chosen® where a child is empowered to choose their sponsor rather than the other way around. The DAM allowed World Vision USA to embargo the Chosen® content and then share it with international offices after launch. In fact, almost half of the Chosen® sponsorships in the first half of 2021 were generated from outside the USA. In other words, international offices had a significant impact on the Chosen® invitation performance without dipping into their more limited budgets.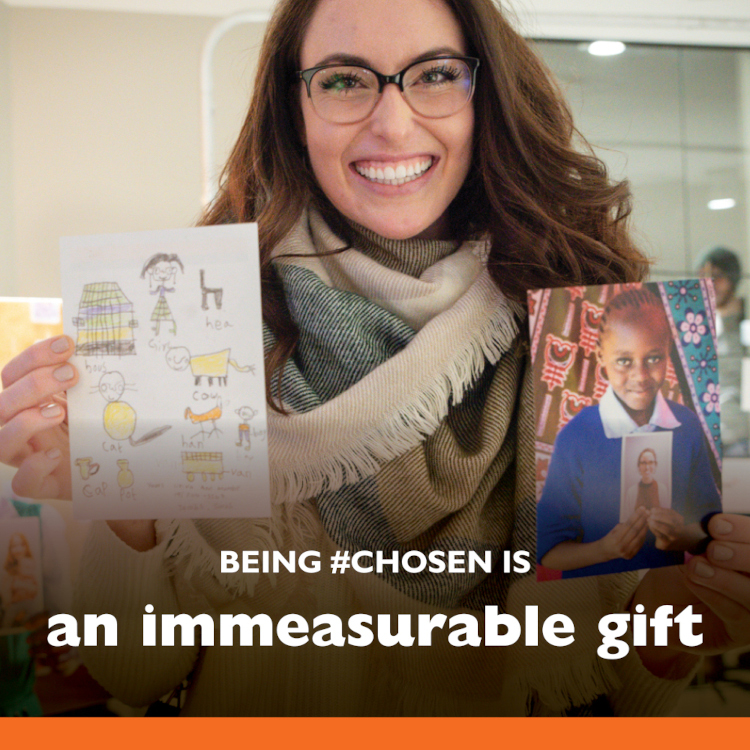 Ad created by World Vision USA, appearing courtesy of World Vision International
Story Hub also helps World Vision International respond to sudden disasters. When Cyclone Idai caused flooding throughout Southeastern Africa, World Vision was able to quickly mount a response, generating images from offices operating near the disaster zone. Over 90% of their offices used content featured on Story Hub, and the organization was able to raise $11 million to help with relief efforts.
‍Daniel said that when it comes to emergency relief efforts, "The graph of the money coming in and the graph of the downloads in Story Hub match almost perfectly."
‍And then COVID-19 hit. Daniel shared, "I cannot imagine if COVID struck, and we did not have Orange DAM in place the way that it was established." Story Hub allowed World Vision to continue their humanitarian mission by creating a central source for images, videos, and other content to help spread awareness and bring about meaningful change.
Lessons learned
Adoption gets a boost when the system is easy to use. A fast connection and an intuitive interface helped Daniel get users on board with the new system.
Your DAM should fit into your existing workflows, not the other way around. When World Vision went looking for a DAM, they wanted one that would fit into their existing tech stack. Orange DAM offered powerful integrations that let users work on assets that were already in Story Hub.
Curated collections help users find materials. The Story Hub homepage features curated selections of assets, grouped by topic. As a result, downloads of homepage images skyrocketed--60% of the downloads in 2020 came from Story Hub's homepage.
What does this mean for your enterprise?
Central source of truth: Create different DAMs for departments and international offices that all connect to one central asset repository.‍
Reliability: Get 24/7 access with fast upload and download speeds.
Lower cost: With just one asset system, you cut down on unnecessary (and costly) programs or duplicate DAMs. You can also reduce spending with at-cost storage.