Results by the Numbers
90,000+
images uploaded a day
23 million
assets in the archive
Industry
Travel & Leisure
‍‍
Headquarters
United States

Building a tech juggernaut
The U.S.-based travel app started as a small space-sharing app. By 2016, it was an international enterprise with offices all over the world, with whole homes or apartments offered by nearly 3 million different hosts.
‍
That growth necessitated hiring more employees—sometimes 20 or more a day.
‍
As the brand continued its rapid expansion, it began to offer new products. In 2018, it introduced three new segments and planned full-scale launches for each.
‍
Each product under the organization's umbrella uses thousands of assets, including images from photo shoots, videos, and more. In addition, the enterprise has an active marketing team that needs more images, videos, and graphics for ads and other promotions.
The goal
The travel site wanted a searchable archive that would hold professional photos, finalized videos, and design files for its branding and various products.
‍
In addition, the organization wanted to create a central source of truth for their brand assets—a single location that would let the press and company team members find the site's distinctive colors, logos, and approved promotional images.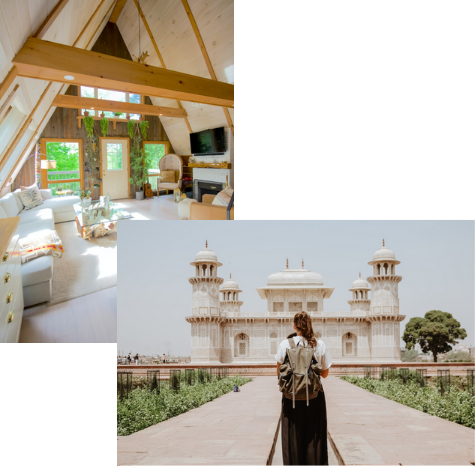 The challenge
Because the organization was rapidly growing and developing new products, they needed a digital asset management tool that would allow them to upload and manage the volume of assets required to bring those new segments to market.
‍
Before Orange DAM, the team had a media uploader, but it wasn't robust enough to handle the number of files the team needed to upload. "We wanted to do hundreds of professional video and photo shoots around the world," their DAM manager said. After the shoots, photographers and videographers would need a central location for uploading assets, much of which included large RAW files.
‍
In addition to the number of assets, the travel site was also working with hundreds of locations, and needed a system that would allow photographers, video editors, and artists to share their work with the site from anywhere in the world.
‍
Once they had uploaded the files, they would need to add metadata, so creative and media teams could find them. When the DAM manager talked to the engineers ramping up a new product he found they were struggling with the scope. "They're talking about tens of thousands or hundreds of thousands of images they want to look through. Because where they were living, it wasn't conducive to looking through or searching for them."
"You can push Orange DAM over and over again, and it can always scale. I don't think we could have done what we did over the past few years without that."
Digital Asset Management Lead
The solution
Though the travel app already had invested in Orange Logic, their new products changed the scope of the DAM.
‍
At first, the DAM team was only responsible for the launch of one product, but given how successfully Orange DAM was able to negotiate the volume of uploads, they were brought on to manage digital assets for other products as well. Before long, they were working with the creative and marketing department and the policy and communications department, as well as the various products the site offers. Orange DAM let them:
Scale to upload assets: "We used Orange DAM to be the main delivery system for scaled photo shoots all over the world. We had vendors uploading every day. At one point we're bringing in between 90 and 100 thousand RAW files per day," the DAM manager said. "I had 4 people — half my team — just creating folders and managing accounts just to keep up with what the photographers were uploading. So their job literally was to create folders, create photographer accounts, and communicate with photographers to receive images."
‍Integrate existing tools: Through digital asset management integrations, Orange DAM users can review, edit, and deliver final assets to the travel site's products. In addition, users can use integrations that tag assets using artificial intelligence, collaborate through project management tools, and comply with regulations, like GDPR.
‍Manage brand identify: Orange DAM still works towards its original purpose as a repository for brand assets. The enterprise maintains a press page with pre-approved logos and images that can be used for public relations and press use, and during its busiest period, used Orange DAM as a "defacto MAM".
The results
When activity was at its peak, the travel site was able to upload 90,000 images a day to the digital asset management system, allowing them to coordinate product launches with teams all over the world.
‍
The number of assets in Orange DAM and the number of users accessing it has only grown with time.
‍
Right now, Orange DAM holds more than 20 million assets in total for the organization, split between six separate groups. It integrates with the programs used by photographers, videographers, and the marketing team.
‍
The digital asset management system has had more than 15,000 users, all of whom could log in to upload, download, review, and edit assets. The workflow is set up to allow more than 1000 shoots per week, globally.
‍
Lessons learned
‍Choose a DAM that can scale: The travel app didn't anticipate the number of assets Orange DAM would need to accommodate, but when it became necessary to quickly upload thousands of assets, they were ready with a DAM that could manage it all.
Find a DAM that lets you comply with regulations: For an international organization, compliance is a major concern. A DAM that helps you navigate GDPR regulations simplifies rights management and reduces friction.‍
Decide on your own storage solution: The travel site stores everything in their own AWS S3 buckets, so the cost comes from production storage rather than their DAM budget.
What does this mean for your enterprise?
Infinite scalability: Upload as much or as little as you need to, using the storage system you prefer. Orange DAM can scale to match your needs.
Easy collaboration: Connect with team members all over the world using a DAM with integrations that fit into existing digital asset management workflows and cloud capabilities.
Compliance: Ensure your enterprise complies with GDPR, FINRA, HIPAA, and other laws and regulations that keep users' personally identifiable information (PII) safe.