‍
Organization
American Film Institute
‍
Industry
Nonprofit
‍
Headquarters
Los Angeles, USA

Creative Director & DAM Manager
Emily Wittenberg
A collection half a century in the making
For 50 years, the American Film Institute (AFI) has worked to promote and preserve the history of American cinema. That includes hosting seminars with film luminaries such as Stephen Spielberg and Stanley Kubrick, as well as running a graduate-level filmmaking program called the AFI Conservatory. In addition, the nonprofit runs live events throughout the year.
All those programs produce assets. The AFI Conservatory produces around 100 narrative films annually, and the other live events all produce audio, video, and still images. Over the course of its history, that amounts to 40,000 video assets, 30,000 audio recordings, and more than one million still images.
Emily Wittenberg is the Archivist for AFI. She manages all the historical materials made by the organization — both physical and digital. She works to adjust quiet audio, clean up video, and digitize all the organization's assets to make them more easily accessible. In between, she helps AFI team members find what they're looking for, helping creative, marketing, and education teams pull up the assets they need to do their jobs.
And until recently, she managed it all without a digital asset management system.
The goal
AFI began the process of looking for a digital asset management system in 2019 with an eye towards making their whole collection more accessible to their organization.
"What I wanted to gain in having a DAM was a central repository," Emily said, "one place where everyone could go, find the asset that they're looking for, and know that it is the correct asset."
There were some special requirements, though. The system they chose had to be able to support a large library of audio and video assets. It had to be easy to use so that staff within the organization — and eventually the public outside it — could find what they needed easily. And it also needed strong artificial intelligence to help tag the millions of assets the archive housed.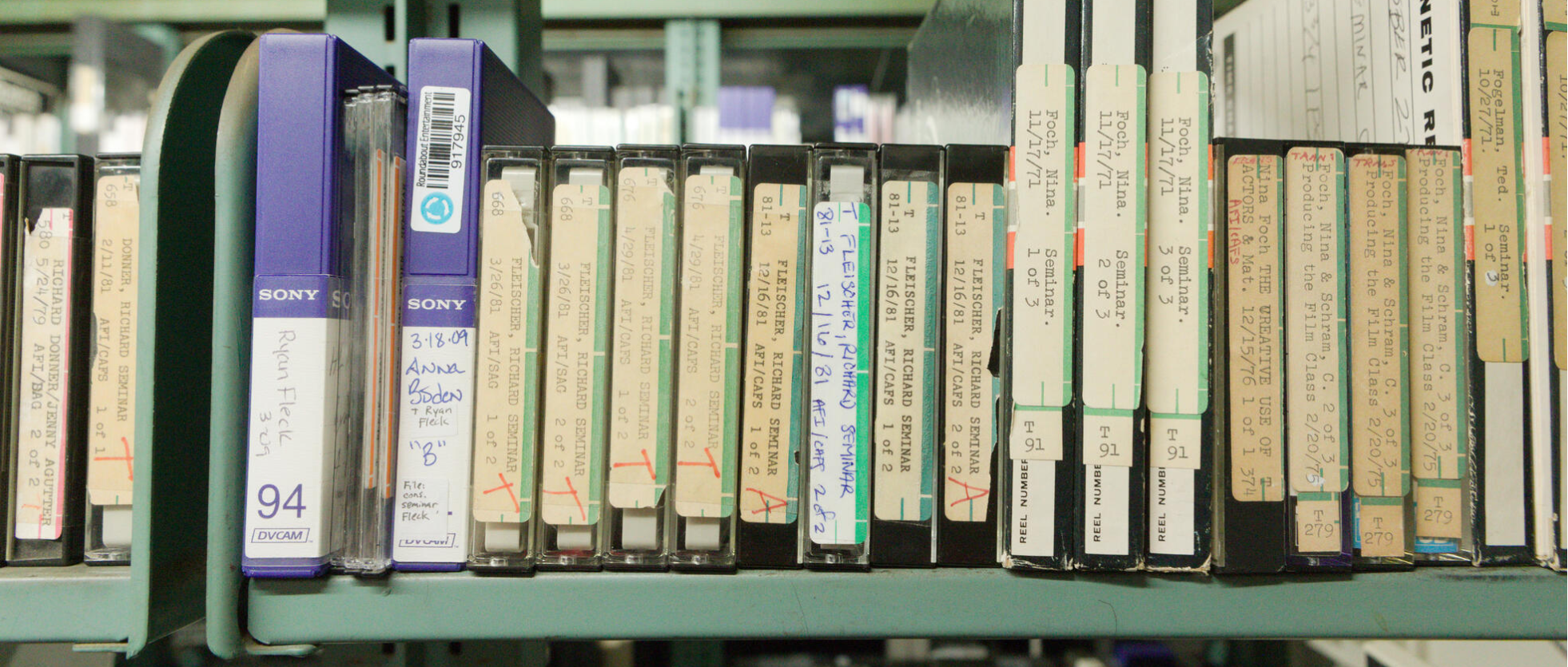 AFI Physical archive materials, courtesy of American Film Institute
The challenge
Prior to this, AFI was working with a combination of spreadsheets, a library catalog, and several digital servers.
The organization had spent some time just digitizing years of physical inventory — audio cassettes, photos, and film were sent out to a vendor to handle much of the digitization, but that content was shipped on disorganized LTO magnetic tapes. Emily had to find assets based on the number on the LTO tape, making it difficult to organize and find materials.
Photos were completely siloed — "The photo archive was kept on one computer and only one computer could access the photo archive because [the computer has] Lightroom, and you can't have concurrent users."
Their DAM would have to make it easy to upload and identify all their content, and make the content accessible to users throughout the organization.
"
I could just sit here all day and list off all the things that Cortex is allowing us to do that we previously have never been able to

.

"

Emily Wittenberg
Archivist, American Film Institute
The solution
Following their RFP, AFI selected Orange DAM, the Orange Logic digital asset management platform. Orange DAM helped them meet their goals for the archive, including:
Facial recognition
AFI used A.I. to go through their photos and videos. Since they had more than a million assets including many famous faces, the facial recognition tool saved countless hours. Emily especially liked the batch confirm tool, which let her quickly go through groups of photos and confirm identifications without reviewing photos one by one.
A self-service system
With 700,000 video and audio recordings, many of which were over an hour long each, AFI couldn't just have employees caption their assets. But the organization had so much useful information in those recordings, it didn't want to let them to go unexamined. Instead, AFI runs audio and video through an auto-captioning A.I. service, making it easy to find references to AFI speakers, award winners, and AFI Conservatory alumni
Subclipping
Video assets can be as large as 400 GB, and often AFI staff only need a small segment of a video for a marketing campaign or event. Emily said that with Orange DAM a user "can identify the time codes using the DAM, and then she can ask the DAM to only download that pertinent clip."
User interface
Since AFI hoped to have an organization-wide DAM, having an intuitive user interface that would allow for rapid adoption was key. The UI within Orange DAM has led to wide-spread adoption within AFI. As Emily put it, "This is a really good tool both from an organizational standpoint but also from a UI standpoint as well."
Easy-to-use search
Straightforward search with facets and advanced search features made all those newly-tagged assets easy to find. "The search has been really useful, and I think it will only get better and better as more content goes in," Emily shared.
Version control
"I really like the versioning control," Emily said. "I can edit a video, bump up color or enhance sound, and then I can put a more refined version on top of the original. My users won't even know, but they'll be able to locate the most current file."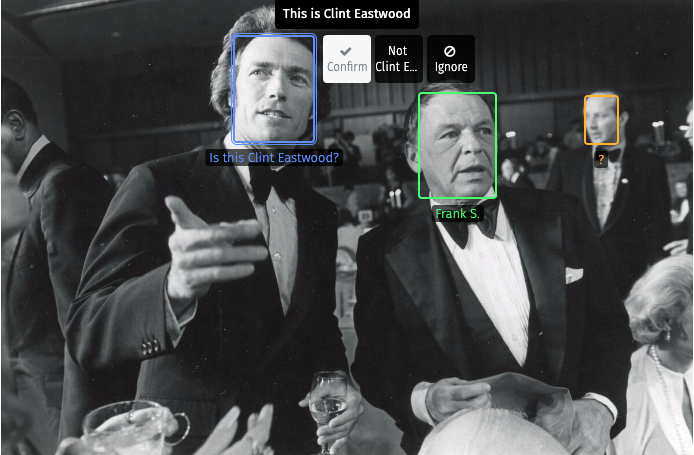 Screenshot of facial recognition in the AFI Digital Asset Management system, courtesy of American Film Institute
"
I knew the power of a digital asset management system. I have implemented others at other institutions, but I did not know what a gift it would be towards all of our content.

"

Emily Wittenberg
Archivist, American Film Institute
The results
"I knew the power of a digital asset management system. I have implemented others at other institutions, but I did not know what a gift it would be towards all of our content," Emily shared.
The artificial intelligence features have made huge swaths of AFI content searchable for the first time.
For example, Emily said, "If I am looking for Sidney Poitier, I can locate all of his seminars. But then having the speech-to-text is a really useful tool, because Diahann Carroll also has a seminar, and she's talking about Sidney Poitier. So not only can I find Sidney Poitier speaking his own words, I can also find when he is a topic of discussion, and that just opens up more connectivity across assets."
And the web-based interface has allowed users throughout the organization to find assets on their own, giving them self-service capabilities for the first time. Users are empowered to find their own material, and can be sure that they have access to everything they should, instead of wondering what else might be hidden in the archive.
"I'm really allowing them to be more self-serving than previously, and I think that it's been really good for morale as well because they don't feel disconnected from the content."
It's also made Emily's job easier. She is able to see at a glance how strong an audio asset is, and then go in and work to improve that audio. "I'm augmenting and making those assets more robust and more usable, and doing the same thing for all of our video as well."
And it's just the beginning. AFI has plans to take some of its archive public, sharing student videos and archival content on a public-facing page. Emily said, "It's just the tip of the iceberg, and it's just gonna get better and better."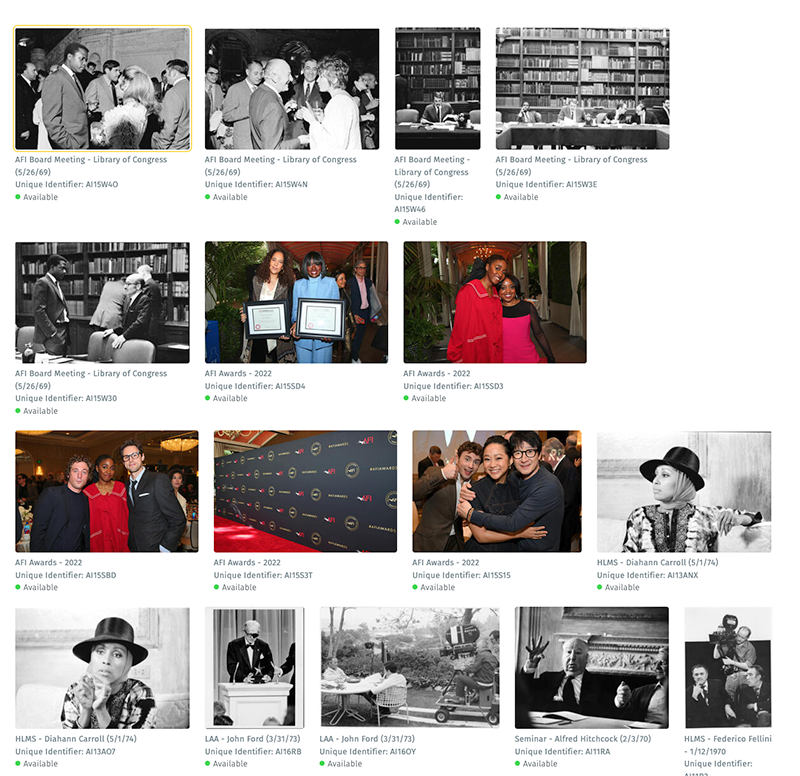 Screenshot of Gallery View in the AFI Digital Asset Management system, courtesy of American Film Institute
Lessons learned
A.I. Improves Search:

Reviewing a million assets was more than Emily could do on her own. Artificial intelligence helped her tag her collection and help users get value out of it faster.

An easy-to-use interface boosts adoption:

Emily's users adapted quickly to Orange DAM because the interface was intuitive and tailored to their needs.

Advanced video and audio isn't optional:

Features like previews, scrubbing and subclipping make sure users get value out of large video and audio files.
What does this mean for your enterprise?
Orange DAM gave AFI an A.I.-powered system that lets them rapidly get value from their impressive collection of assets. The DAM system has a unique A.I. interface that lets you triangulate multiple artificial intelligence services to get better autotagging results. And all the tagging and captioning you do with A.I. feeds into search, letting you build better search results quickly.
The DAM also offered AFI powerful video and audio support, letting users preview long files, create subclips for projects, and view the health of files easily from the front end.
Last, but not least, the digital asset management system has an interface that encourages adoption and makes it easy for users to find what they need.