Carnegie Hall digital asset management by the numbers
130 years
of searchable history
400+ Terabytes
of assets provided
Archiving the history of Carnegie Hall
Carnegie Hall has an extraordinary history. Artists from Pyotr Ilyich Tchaikovsky to Billie Holiday, the Beatles to Jay-Z have all performed at the New York City venue. Even political and historical figures like Theodore Roosevelt, Winston Churchill, and Martin Luther King, Jr. have graced its stages.
Carnegie Hall established its archives in 1986, in preparation for the Hall's upcoming centennial in 1991. After decades of collecting historic material, Carnegie Hall began digitizing its collections in 2012. To support that, the organization needed a digital asset management software that could manage both its current content and historical material.
Creating and managing the archival Digital Collections is a major undertaking. In fact, the Hall's five-member Archives team, including Digital Collections Manager, Kathryn Gronsbell, spent the last six years developing the Digital Collections. But as any good archivist (or DAM manager) knows, the work is never really done.
The goal
Known today as the Susan W. Rose Archives, Carnegie Hall's collections were founded to share the Hall's history with the world. And the digital archive opened up a fresh opportunity to reach even more people. The archivists began to develop plans to take their archives online through a public Digital Collections website.
"There's no reason why these materials need to be locked away somewhere," Kathryn shared. "They should be out in the world. They should be used and studied and explored — and enjoyed, too."
In order to provide selected collections to the general public, the Rose Archives used Orange DAM to segment its diverse groups of users. The DAM would have to accommodate a range of users, including general history lovers, journalists, filmmakers, and Carnegie Hall's own staff.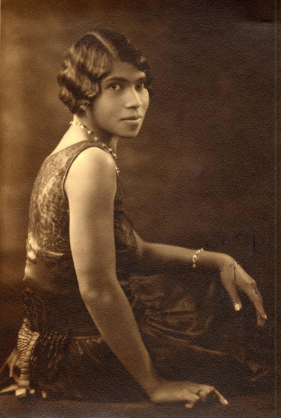 Photo of contralto Marian Anderson
courtesy of Carnegie Hall's Digital Collections
The challenge
To create their publicly available digital collections, Carnegie Hall had to bring several elements together in their digital asset management system.
First, the Carnegie Hall staff had to digitally preserve and organize their historic content. In particular, the Hall needed a system with complex permissions. This would let the Rose Archives team separate the assets they had the rights to share with the public from assets with more complex rights restrictions.
Once those permissions were in place, the Rose Archives needed a public space that let users access a curated selections of assets. Because visitors might come in with little historical expertise or technical know-how, the DAM also had to be easy to search.
"There's no reason why these materials need to be locked away somewhere. They should be out in the world."
Kathryn Gronsbell
Digital Collections Manager for Carnegie Hall
The solution
Kathryn and the Rose Archives team worked with Orange Logic to customize their digital asset management system and create the type of public portal they needed for the Digital Collections. The updated DAM let them:
Securely manage assets: Archivists were able to decide who should have access to which assets. The intuitive permissions controls let Rose Archives' admins control digital asset management access and downloads permissions themselves, without any additional support.
‍Collaborate with other departments: The internal Digital Collections helped unify staff and encourage collaboration across departments with a centralized digital asset management and discovery layer. That central system made it easier for teams, such as social media and marketing, to find and use historic content.
‍Create a public face for the Hall's Rose Archives: The public Digital Collections acts as a one-stop shop for historic material from Carnegie Hall. To get it ready, Orange Logic worked with Carnegie Hall to find a template that matched the Hall's design strategy. Since the template fit Carnegie Hall branding guidelines, the Hall needed fewer resources from outside their team to get the site up and running. In the end, the public Digital Collections site was attractive, on-brand, and easy for the general public to use.
‍
The results
The public Digital Collections have been a resounding success. Since its launch, the site has seen a steady growth in usership. Visitors spend twice as much time on pages dedicated to the archival collections as they do on the main Carnegie Hall site, and the Digital Collections have an impressively low bounce rate of just 7%—extremely low compared to the industry benchmark of about 57%.
The growth has been brought about through collaboration with other teams at Carnegie Hall. For instance, the social media team will post assets drawn from the Rose Archives and point followers towards the Digital Collections site. When COVID-19 struck, archivists were able to return the favor. The Digital Collections were positioned to help remote staff find interesting, ready-for-social content, even when the Hall's programming pivoted to an all-digital format.
"Our ability to share all of our archival collection and our current material with staff from home has been a priceless opportunity," Kathryn said.
‍
This was especially true when the live Carnegie Hall opening night had to be reimagined. Instead of a live event, the Hall chose to host a virtual opening night. Archival materials featured heavily in the engaging 60-minute online program. The team that put the event together worked closely with the archivists to find and get access to images and media from the Digital Collections. The resulting presentation drew attention to the venue on YouTube and other social media sites.
‍

The Digital Collections have allowed the Hall to remain agile and responsive to change. Whether Carnegie Hall staff are working from home or in the office, they can connect to a wealth of assets related to the venue using their new digital asset management platform. And even when Carnegie Hall's lights go down for the night, the Digital Collections are still online — ready to share the glamour and history of the New York City institution, 24 hours a day, 365 days a year.
‍
Lessons learned
‍It's important to get users invested in your DAM: The archivists spent time working with Carnegie Hall staff to make sure they understood the digital asset management system and could use it. That staff became the archivists' best advocates. They upload and provide initial tagging, investigate and add missing information, and voluntarily provide system testing and feedback, giving the smaller Archives team additional support. ‍
Keep putting in the time: Though it didn't take long to design a public-facing archive, Kathryn and the Rose Archives team spent years digitizing and organizing assets. The time they put into policy, procedures, and practice paid off when the coronavirus pandemic hit, and Carnegie Hall was able to quickly and smoothly transition to a virtual work environment. Kathryn said, "I can't express how incredibly important long-term investment and resources were in allowing us to pivot so quickly to address the needs of all our users." ‍
A DAM can do more than just asset management: The Archives use their DAM as a digital collection management system, a digital asset management system for fixed assets, and a discovery portal. "That mix of use cases is something that we needed," Kathryn said. The way they developed their DAM allows them to do all three using just one platform.
What does this mean for your enterprise?
Intuitive user interface: Create a public-facing DAM that looks and behaves like a traditional, easy-to-use website.‍
Advanced permissions: Develop granular permissions that let you decide who can see or download specific assets or folders.
‍On-the-spot access: Have your whole system at your fingertips any time, anywhere.